Ridgeview High School
Hickory, North Carolina
Home of the Panthers
Prior to 1913, the Negro city school in Hickory, North Carolina was known as the Elementary School for Colored Children. Faculty consisted of principals Mr. M.P. Munford and Mr. Luther L. Ramseur. Teachers were Reverend Hairston, Mr. Jim Avery, and Mrs. Rosa Alexander Cleland. Years later a new brick building with four rooms was built. All of the equipment from the old school was moved to the new school. There was not any indoor plumbing, so the toilets were outside.
Before there was Ridgeview School, it was called Catawba Training Academy. It was a wooden building with 3 rooms on the first floor and later 3 rooms were added downstairs. The principal of Catawba Training School was Professor Louis Ramseur.
Eventually an addition was added to the school.The next principal was Professor Vaughn, who gave the students the opportunity to name the school that became Ridgeview.
Ridgeview Alma Mater
By the ridge of blue Top Mountain stands dear Ridgeview HighWhose fame and honor ever mounting, never ne'er will dieRidgeview Ridgeview Alma Mater, your sons and daughters are true.Long as the sun sinks o'er yon mountain, we'll cheer the orange and blue.

Soon the school grew even more. The new principal was Professor A.W. Booker.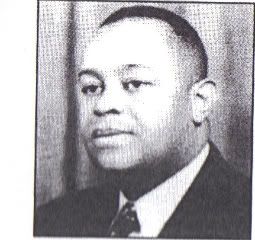 Professor A.W.Booker
Mr. Booker's successor was Professor Taft Broome.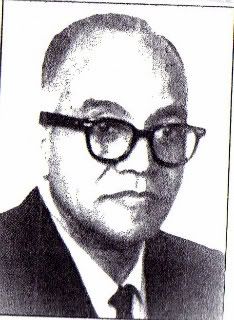 Professor Taft H. Broome
In 1953 the school was in its new building which included a lunchroom, teachers lounge, a gym and a football field.
The park between Ridgeview Recreation Center and Brown-Penn Recreation Center is named for Mr. Broome.



Ridgeview High School Auditorium & Gymnasium 1941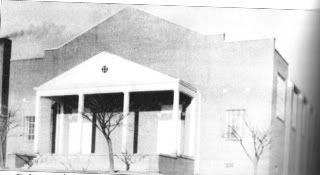 Ridgeview High School Auditorium & Gymnasium, now called the Brown-Penn Recreation Center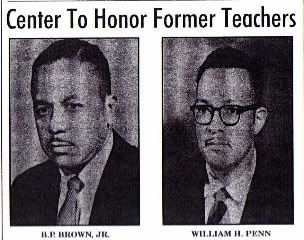 Newly remodeled and now called the Brown-Penn Recreation Center
Old Ridgeview High School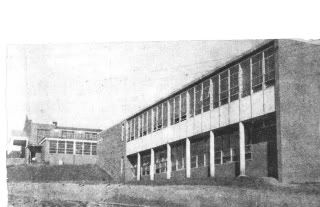 Ridgeview High School 1950s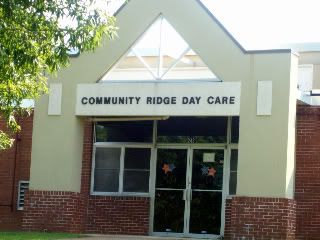 Community Ridge Day Care Center, formerly Ridgeview Elementary School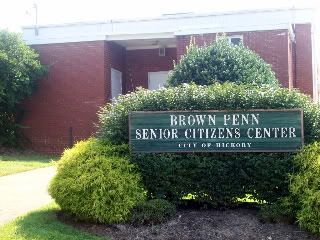 This was formerly the old Ridgeview school cafeteria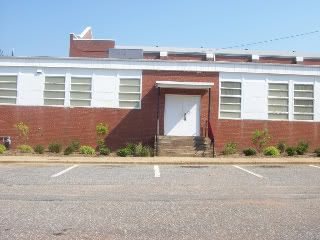 This was formerly the old Ridgeview school cafeteria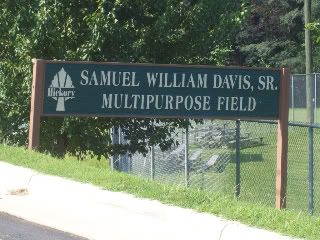 Ridgeview Recreation Field now named after
Mr. Samuel Davis
FACULTY
Principal A.W. Booker
Principal Taft H. Broome
Mr. E.T. Moore
Mr. James C. Killian
Mr. R.J. Scales
Miss H. Belton
Mrs. S.W. Washburn
Mrs. Alice C. Bennett
Miss W.F. Little
Mrs. Deal; Miss Cox
Miss Ellis; Mr. Faggett
Mrs. Booker; Miss Johnson
Miss Annie J. Wansley
Mrs. Mitchell
Miss F.B. McCurry
Mr. Dillard; Miss D.I. Utley
Mrs. E.E. McFall
Mr. Moore; Miss Howze
Miss Washington
Miss Bennett
Miss M.G. Belton
Mr. D. E. Forney
Miss F.R. Tyson
Mrs. H.G. Crutchfield
Miss P. Corpening
Miss J. Cundiff
Miss Marie G. Poston
Miss Y. Torrence
Mrs. V.C. DeVane
Mrs. Dorothy M. Patterson
Mrs. S.K. Peoples
Mrs. M.S. Mitchell
Miss N. Harshaw
Miss R.A. Gaston
Mrs. J.D. Mitchell
Miss B.R. Longcrier
Mrs. M.M. Fuller
Mr. S.W. Davis; Miss Portia Derr
Mrs. W.D. Patterson
Mrs. C.R. Williams
Mrs. P.D. Shuford
Mrs. Martha F. Burwick
Mr. B.R. Sudderth
Mrs. B.E. Twitty
Miss B.R. Hull
Mrs. R.R. Barnhill
Mr. James David Fisher
Miss M.E. Johnson
Miss L.Y. Washington
Miss H.C. Belton
Miss B.J. Derr-Thompson
Miss Helene
Mr. Thomas H. Penn
Mrs. A.J. Davis
Mrs. C.H. Sharpe
Mrs. Janet B. Thompson
Mrs. M.H. Wise
Mrs. Hilda H. Robertson
Mr. Edward Jones
Mrs. Ollie M. Evans
Mrs. Rosa B. Crim
Mrs. H. Kimball
Mr. Dillard Mrs. Booker
Mr. Harry Hill
Mrs. Sylvia McRae
Mrs. Alvese D. Jones
Mr. William Robinson
Mrs. Marie M. Fuller
Miss Hilda Howell
Mr. Burrell P. Brown
Mrs. Le Van Norwood
Mrs. Sarah K. Hinton
Ridgeview Clubs
Hi-Y Club- Organization to set standards of Christian ideals in the schools.
Girls Reserve- Ridgeview chapter organized in 1934 under direction of Miss M.E. Johnson. Offered training to girls to help them to develop properly mental, physical and spiritual lines.
Crown & Scepter Club- statewide high school honor society students must maintain average 10% above the passing the mark of the school in Freshman and Sophomore years.
Homemaking (New Homemakers of America) -was a required course for both Sophomore and Junior girls.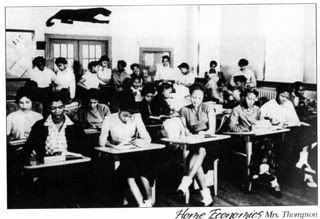 Band
Handicraft
Boy Scouts/Cub Scouts
Girl Scouts/Brownies
Art Club
Dramatics Club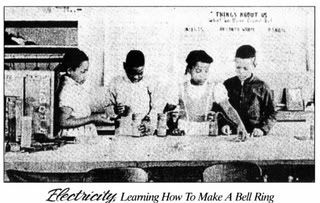 Science Club
Glee Club
Student Council
Newspaper Club
Library Club
Yearbook
Sports
Ridgeview High School was widely known for their sports teams. They had extraordinary football and basketball teams that were often times State Champions.
Most football games were played on what is now the Samuel William Davis Sr. Multipurpose Field. With segregation, the Panthers played other Negro schools such as Newton, Catawba, Statesville, and Lenoir and sometimes even schools in Charlotte and Gastonia.
From 1930 to 1965, the Ridgeview High School Panthers football team had an overall record of 231-73-11, consisting of 29 winning seasons and 3 losing seasons.
The players were guided through many coaches over the years with Sam "Jap" Davis being one of their top winning coaches with 123 wins. Other top winning coaches are Jerry C. Johnson with 43 wins and J.T. Wilson with 5 Conference Titles.
The Panthers were Conference Champions 11 times, State Runner-up 3 times, and won the State 2A title 3 times.
Ernie Warlick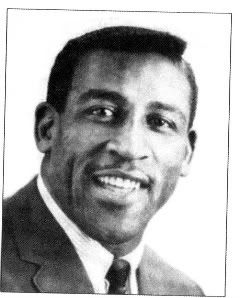 Over the years the Panthers had athletes who went on to play professional football. Ernie Warlick, Class of 1948, played for the Calgary Stampeders of the Canadian League and also The Buffalo Bills when the AFL (American Football League formed).
Ozzie Clay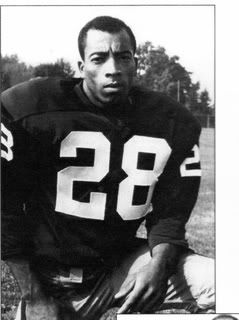 Ozzie Clay played for the Washington Redskins and latter the Cleveland Browns. Leonard Clay also played for the Washington Redskins and Cleveland Browns.
Both the Panthers girls and boys team also excelled in basketball.
Robert (Bobby) Warlick was an outstanding basketball player of Ridgeview. He attended college and went on to play in the NBA. Bobby began his career at Purex where he also excelled and still gave back to his home community, Ridgeview. There is a plaque honoring Mr. Warlick and all he did at the Ridgeview Branch Library.
The ladies of Ridgeview also excelled in basketball under the direction of Coach Burrell Brown.
Joanne Sudderth Giles was the NC Ping Pong Champ 1948-51, track relay and broad jump 1950-51, and basketball chanpion 1949-51. Women also excelling in sports at Ridgeview were Dr. Fannie Gaston-Johansson and Jessie Collins-Walker.
Mr. Burrell Brown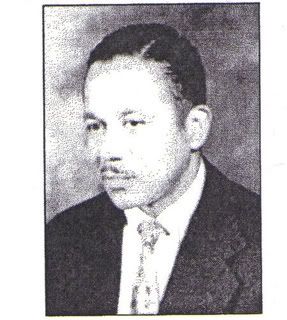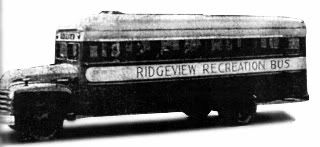 Typing Class
Furniture Made By Students in the Workshop
Class of 1936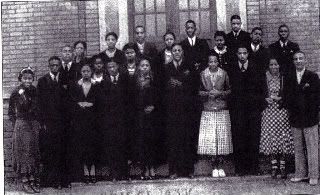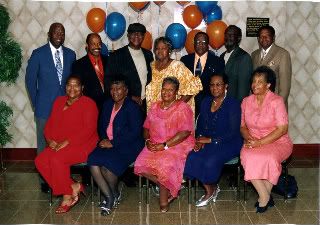 Class of 1960
CLOSING OF RIDGEVIEW ELEMENTARY & RIDGEVIEW HIGH SCHOOL
Title VI of the 1964 Civil Rights Act forced Hickory's schools to integrate. In the spring of 1966 the doors of Ridgeview closed for the last time. Elementary school students were split up among the city's elementary schools, junior high students went on to Grandview and College Park middle schools. Ridgeview's high school students went on to desegregate Hickory High School.
The Ridgeview Elementary School was purchased by the city in 1976 after being vacant for many years. The building was renovated and is currently the site of Communigy Ridge Day Care Center.
Parts of the high school were demolished leaving only the auditorium which now houses Brown-Penn Recreation Center and the cafeteria, now the Brown-Penn Senior Citizens Center.
Last Graduating Class of Ridgeview High School
Class of 1966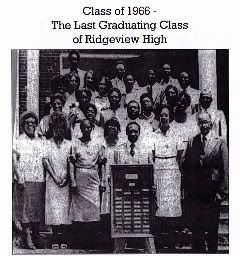 RIDGEVIEW SCHOOL ALUMNI REUNIONS